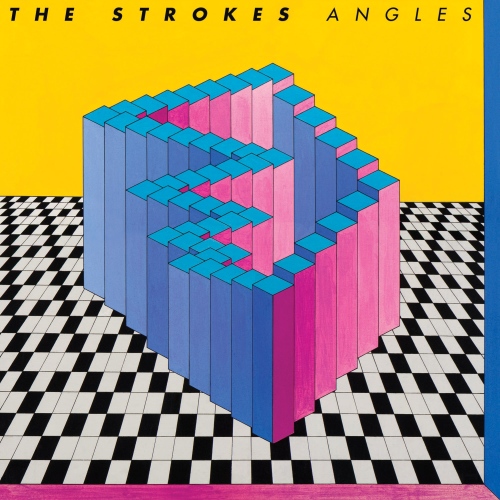 The first lyric off "Machu Piccu", the first track of The Strokes latest album
Angles
, states that "I'm putting your patience to the test," and I totally buy it, considering the music scene has been pretty much dry of any new Strokes material for five years. The anticipation for a new album has been partly arousing and partly confusing, as I've tried to cope with the fact that these guys have pretty much done everything with the right mindset since their stellar debut
Is This It
ten years ago, and yet they've only produced four albums. Does it really beg the question over whether they can keep up their sound after such an unusually long hiatus? Well, after one listening of
Angles
, I can safely say that the question is rather pointless. The Strokes haven't gone anywhere.
Julian Casablancas and his mighty crew of excellence have done quite well on
Angles
. For the 34 minutes that the album runs with, The Strokes perform a full-fledged show for the ears, varying in results of unique and oftentimes epic sounds of great rhythm and syncopation, the first half especially. The frequently played "Under Cover of Darkness" is rightly played out, as it hearkens right back to their first album. "Taken For A Fool" also fits in similar line, blasting such power to fit a tight rhythm that's enlightening. "You're So Right" is perhaps the grooviest and most fun track of The Strokes I've yet to hear, with a purposely short track length to fit in all the unique qualities of fuzzy guitar and buzzed bass that make it sound like it came right out of Radiohead's
Kid A
.
The second half presents something a little more experimental if not mixed experience for The Strokes, bringing in synths and electronics to tinker their guitar work, such as on "Games" and "Call Me Back". The sounds are interesting, yet they seem discordant with Casablancas' vocal and lyrical style. That isn't to say they're not good, but it does somewhat drag what they've so effortlessly established in the first half. Things kick back into gear with "Gratisfaction" only to have "Metabolism" enter, and it sounds as if Muse entered the studio. It's a little bit discombobulating (yes, I used that word in everyday English), but it still crosses a finish line with flying colors.
So are The Strokes back? Yes - in some form - and you should be happy.
Is This It
may continue to be their masterpiece and "signature sound," but their latest offerings on
Angles
mixes and matches The Strokes catalog and solo efforts in a way that never feels rushed or lacking. They provide new directions they may head into, but they also provide what The Strokes are always best at. If another five year hiatus is in order, I cannot expect any less of them.
3.5/5
The Strokes - Taken For A Fool
The Strokes - You're So Right
Angles
is available on Rough Trade Records on March 22nd.